The Restaurant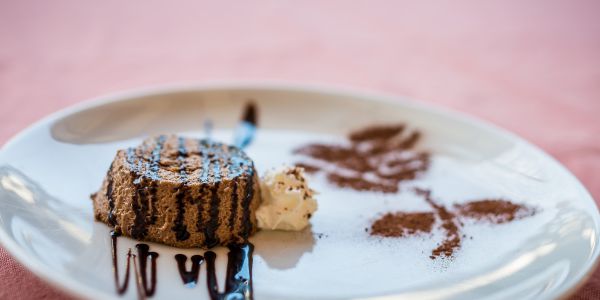 Chef Lori is the true driving force behind the restaurant. Her menu, mainly fish orientated but with numerous variation and recipes, simple, traditional Tuscan cuisine, for example Livorno style fish soup, known as cacciucco, fried paranza, a Mediterranean fish, fried vegetables in a light batter, fresh pasta and many desserts.
The restaurant entrance is accessible from Mario Puccini street. The arched entrance has a wonderful stained glass style door designed by Sandra and made by professor Pergolini, her teacher at the school of glass-art, Pisa.
Chef Lori's fish and meat dishes derive from antique recipes that may also include tripe, ribollita, buck wheat soup, as well as pappa al pomodoro (traditional Tuscan dishes). Lori has a sweet tooth because her passion has been baking pastries since she learnt from an illustrious chef at the French embassy in Livorno. Her favorites are torta della nonna, made with pine nuts and cream, jam tarts, apple meringue pies and tiramisu.
Her dishes are prepared with ingredients chosen for their quality, aromatised by herbs from her garden or wild herbs gathered by Sandra on her country walks. At the restaurant it is also possible to eat pizza and focaccias. The dough is naturally risen.
In the three dining rooms there are many paintings by Aldo Mazzi, a Macchiaiolo style artist and other pictures of marine knots which is the theme throughout the hotel. It is possible to hold events at the restaurant: the capacity 50 pax, for example weddings, christenings and other important anniversaries.