The Hotel Fiammetta is ideal for a preferred/perfect holiday, in the summer as in winter. It is situated near the center between the hills and sea. Near the Hotel Fiammetta are the small stores, bar and more. The Hotel Fiammetta has a restaurant wheel you can enjoy Tuscan dishes of fish and pizza. The Hotel Fiammetta has ten rooms which are warm in winter and cool in summer, with furniture available for children and babies, and free Wi-fi. For ho loves bicycle the Hotel Fiammetta offers rental services.
The hotel has 10 bedrooms furnished in a modest manner, warm in the winter and cold in the summer.
The bedrooms have on suite bathrooms that include a shower, a hairdryer, a safe, a telephone, a LED TV and free wi-fi. Two of the bedrooms have a large balcony that includes tables, small sofas, sun umbrellas and sun beds. The others overlook the hotel garden with a sea view. Each bedroom also includes a picture with sailors knots above the headboard of the bed, made by a local craftsman. There are family size bedrooms, large enough for three-four guests, double rooms with single bed and double rooms with a king-size bed. Families with children under two years old will be provided with a cot. Pets are allowed at no extra cost.
continue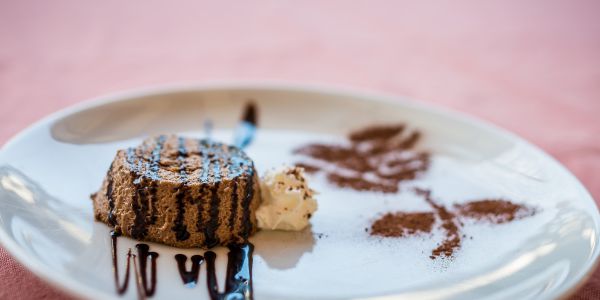 Chef Lori is the true driving force behind the restaurant. Her menu, mainly fish orientated but with numerous variation and recipes, simple, traditional Tuscan cuisine, for example Livorno style fish soup, known as cacciucco, fried paranza, a Mediterranean fish, fried vegetables in a light batter, fresh pasta and many desserts.
continue
Locally born and bred, they are a family who has a passion for cuisine, hospitality and nature. At present there are four generations of the family from great grandmother Lori, her children Sandra and Stefano, granddaughter Giulia and great grandson Gregorio.
continue

Quercianella is the neighborhood scout of the city of Livorno, has alias ben a holiday resot, a small villege of about 1,000 souls dominated by the promontory Wheel stands the castle of Sonnino (open at certain times during the year and details), in the summer resort has a micro climate suitable for people suffering from respiratory trait, has a thick Mediterranean espaecially foe pines and pine trees, as well as ptosferi, brooms and blueberry.
continue